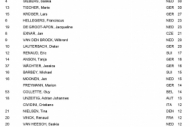 Super trots zijn we dat we 3e staan in de ranking van de Top Driver Award!!!
Als beste Nederlander geplaatst achter Marlen Fallak uit Duitsland op 1 en Bartlomiej Kwiatek uit Polen.
Ook onze overige nederlandse team genoten doen het goed:
Eline Houteman, Saskia Siebers, Frans Hellegers, Jacqueline de Groot en Wilbrord van den Broek staat op respectievelijk op de 6,7,10,11 en 13e plaats.
De Top Driver Award Ranking (TDA) van de Fédération Equestre Internationale (FEI) is de lijst waarop de ranking van internationale rijders wordt weer gegeven. Je kunt dit vergelijken met de world ranking van tennis of volleybal.
De TDA is gebaseerd op de resulataten van Internationale wedstrijden verreden op CAI3*, CAIO4* (landenwedstrijden) en CH-M(Wereld Kampioenschappen) over één seizoen. Je hebt deze ranking voor enkelspannen, dubbelspannen en vierspannen paarden. Van deze wedstrijden tellen de beste 4 wedstrijdresultaten.
Het seizoen is nog in volle gang en we zullen dan ook ons best doen in Piber (Oostenrijk) nog een aantal punten te vergaren.
Je kunt de resultaten zelf zien en vergelijken op: FEI-TDA-singles
Super proud that we are standing on the 3th place in the Top Driver Award of te FEI.
As best placed Dutchman right after Marlen Fallak from Germany on the first and Bartlomiej Kwiatek from Poland on the second place.
The Top Driver Award is based on results from all CAI-3* and CAIO4* events and World Championships to achieve placings or standings.
Points are awarded to drivers based upon their final classification at the event linked to the number of drivers taking part.